Gravel Doctor ® Business Blog
Driveway Repair Made Easy with The Gravel Doctor ®
Start Your Own Gravel Doctor Business or
Would you like to expand your existing business?
The Gravel Doctor machine attaches to a category 1 three point hitch on a compact 4 wheel drive tractor. If you are in the landscaping business or have a compact tractor, the Gravel Doctor can expand your current business with minimal investment allowing you to address a virtually untapped market in the gravel driveway & parking lot maintenance sector – with little or no competition !
Would you like to take control of you own destiny and have job security? In these days of downsizing, outsourcing & and job uncertainty, in this economic environment of high overheads, complicated governmental requirements & marginal profits – the future of many jobs is questionable. Would you want to have more control in your life? Gravel driveways and parking lots will require maintenance as long as cars and trucks have tires. The Gravel Doctor service is appreciated by everyone – whether it be residential, commercial or industrial clients – no one likes potholes!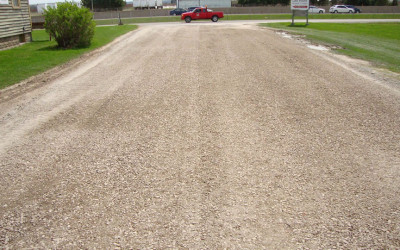 The machine scarifies, remixes, spreads and levels existing gravel or new material. The Gravel Doctor ® equipment is designed to mount on a category one 3-point hitch on a compact 4 wheel drive tractor. The machine is available in 4' 6" to 8' sizes. Larger sizes can...
read more
THE WORLD'S PREMIERE GRAVEL MAINTENANCE SYSTEM
Drop us a line anytime, and one of our customer service reps will respond to you as soon as possible